DPS Society
A pioneer in any field charters a course of change. The DPS Society has been a pioneer in the field of education and within its vision of providing modern education, has introduced new generation education in Pathankot. High academic standards are symbolic of its ideology and commitment to academic excellence.
Within the broad-based curriculum and options offered, ample opportunities are provided to develop and assess the critical creative thinking skills, the flexibility of approach, ability to work with and serve others and to develop grit and fortitude in the face of challenges. A kaleidoscope of extra-curricular activities aimed to expand and enlarge the intellect, support the education programme of the institution. Our mission is that the DPS product should stand apart- a student of DPS should be a confident and dynamic learner with a strong individuality.
DPS Society members believe that the most sustainable way to pay back to society is through quality education. They envisioned a school in which students will take the lead in changing society for the better; acting locally, but thinking globally. They firmly believe that until students have given back to their immediate community, they will not be able to contribute effectively to wider global issues or become global citizens. The society is committed to ensuring that it maintains a genuine focus on quality education within the parameters of its vision.
DPS Pathankot at a glance
Leadership programmes – empowering children to discover values through community service, communication, conceptual thinking, and creativity.
Emphasis on community service – enabling children to imbibe core values experientially through service
Differentiated teaching in classrooms – through individualized and collaborative learning
Interactive smart-boards to be introduced in middle school to prepare children for the Digital Age
Computer resource centre for children to nurture creativity, discovery, and imagination
Well stocked library with a wide selection of books
Well-planned indoor and outdoor adventure playground, to enhance the learning value of play in early childhood development
Co-curricular activities are an integral part of the School's holistic educational programme.
DPS Pathankot is an academic institution with facilities to pursue education from Pre- Nursery to class 9th.
Please Note: The school will be upgraded by one class every year.
Our Vision and Mission
Vision
To create global citizens and leaders of tomorrow by imbibing intrinsic values of love, empathy, discipline, and respect. To raise 21st-century citizens who will think globally and act locally.
The curriculum at Delhi Public School facilitates the application of such values both within the classroom and outside it, in real-life situations.
Mission
We will create thoughtful leaders by fostering creative minds through holistic education and the desire for lifelong learning.
Our teaching pedagogy fosters the following core values in our students:
Love – the fountainhead of all values; translates into a desire to reach out and make a difference in the lives of others
Empathy – a pre-requisite for leaders in order to be sensitive to other's feelings and realities
Caring – to be thoughtful and considerate to others
Discipline – Effective self-management which inculcates confidence and boldness in a student
Principled –to learn to believe that being upright, honorable and ethical in all their actions makes the character of a person
Respect – Respecting oneself, others, the environment and the larger society we live in
Inquirers – to develop a mind that believes in analysis and investigation before making a decision
Thinkers – to learn to reflect and contemplate before taking an action
Communicators – honing a skill that helps one to convey ideas and information
Risk Takers – understanding that certain decision require action rather than the reflection
 Knowledgeable – to be able to comprehend information and learn to apply it to situations
Reflective – to be able to be contemplative and introspective
Balanced – learning to weigh their decisions and actions
Open-Minded- ready to accept different viewpoints without being narrow-minded or obstinate
Crest and Motto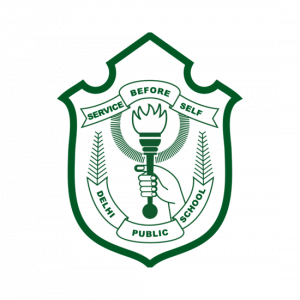 A diagonal sash carries the motto across a concave-sided shield. The Motto, 'Service Before Self, interprets as 'the solemn promise to extend a helping hand to those towards are not as fortunate".
Our Ethos- Grooming Students for their Overall Development
The ethos of the school is rightly captured in its motto –Service Before Self. The school kindles in children intellectual, emotional, physical and spiritual development. It aims to produce successful, responsible, creative, global citizens striving for excellence in their chosen spheres while maintaining their commitment to the progress of society. It envisions a stimulating learning environment by providing highly motivated facilitators, innovative educational methods and quality infrastructure that will help to discover, nurture and bring to fruition the treasure within.
A school is one of the four pillars of society, the others being students, parents (home), and the community. A school cannot exist in isolation and has to be sensitive towards the demands of modern trends and requirements as far as education is concerned. We have to learn and change with the variation in the environment, gearing ourselves for newer challenges.
We believe that a child who steps out of our portals has to be ready to face all the challenges that may come his/her way. We believe in raising independent and self-sufficient children. Our commitment to the people of Pathankot who have resided immense faith in us, will be to ensure that we maintain our record of academic excellence
Our History 1949
Delhi Public School Society (1949) was established with an ennobling vision: providing modern education to a young India on the brink of being an independent nation. The society envisioned that the future of a nation lay in the hands of its citizens who were well- informed, well-read and learned.
Over the years DPS has lived up to its reputation of giving to the nation successive generations of sophisticated, cultured and bright leaders who have been able to lead from the front. The alumni of DPS have left an indelible mark in all the fields. This zeal and commitment to excel, achieve and serve have been the guiding vision of the faculty and the students of Delhi Public School.
Taking a Progressive Approach
The faculty, teaching pedagogy and facilities are of truly world-class standards. Our curriculum, both academic and co-curricular, kindles a love for learning, a respect for cultural diversity and a strong sense of social responsibility among the students.
DPS in its role of a leading educational institution endeavors to prepare students in its care by imparting a holistic education, in an environment that encourages children to question, experiment and learn through observation and self- correction. The curriculum is modern and aims at fostering individuality, independence, compassion and above all, a concern for the environment.
The learning programs on offer at DPS are tailored to encourage and motivate all young children to do their best. Small classes enable students to receive individual attention. Lessons are adapted to the pace of the child in order to give them a sense of achievement when a task set for them is accomplished. This positive approach ensures that all students feel like winners at the end of the day!
DPS Pathankot- Aesthetically Invigorating
The building of Delhi Public School, Pathankot is a perfect blend of modernity and environmentally friendly architecture. It has been designed keeping the comfort of the students in mind. The large open spaces, bright and airy classrooms, huge playfields, jogging tracks, swimming pools, and playstations are state-of-the-art. DPS has on offer world-class facilities ensuring that learning takes place in an extremely robust and stimulating environment.
The impressive infrastructure of DPS Pathankot has set the standards of schools extremely high, not only in the surrounding areas but amongst all other institutions in Punjab.
Learning Beyond The Classroom
Learning is a passionate, interactive and continuous process of progressive change from unawareness to knowledge. Providing a platform to children to explore, evolve and discover makes certain that the learning process is taking place.
An environment that is conducive to learning is one which provides resources (guides and mentors) and allows space to the learner to express opinions while setting up positive lines of communication. Such surroundings help the child imbibe skills so that they become confident in themselves, articulate in their expression and are unfazed with any impediments they may face in life.
DPS is committed to building an atmosphere which promotes the spiritual, moral, cultural, mental and physical development of the children in its care. It also believes that true learning is not complete without parental support, and when the school and the home both join hands, the magic will unfold.
Be inspired – come and see what everyone's talking about, and talk to us about your child's learning journey!